It can be frustrating when a relative doesn't stop posting right-wing memes on his Facebook page — especially when you're about to release your very first woke album!
That's the conundrum Taylor Swift found herself in this week when fans noticed her father, Scott Swift, allegedly had a habit of sharing images on his account targeting Democratic presidential hopeful Elizabeth Warren and the #BlackLivesMatter movement.
Thankfully for the 29-year-old singer, Poppa Swift swiftly deleted his account after fans took notice — but not before they were able to screenshot a few damning posts.
Related: Taylor's 'Lover' Music Video Shows Her In An Interracial Romance!
The drama began when Tay appeared to reblog a screenshot of Scott's Facebook post in which he made an innocuous dad joke, writing:
"Taylor and Austin said I needed to get steps on my phone. Wrapped phone in a towel, secured with rubber bands and put it in dryer on 'cool'. Put 10,000 steps on the phone, watching golf. Feel great. They were right!"
LOLz! Oh, Dad…
In a since-deleted Tumblr post, the Grammy winner seemingly shared her father's joke, joking "this man must be stopped." It was all in good fun — until Tay's comment caused fans to look up her dad's FB page.
There, they stumbled upon many posts that weren't quite as lol-inducing. In one post from 2017, Scott refused to acknowledge Warren as a Senator, allegedly sharing: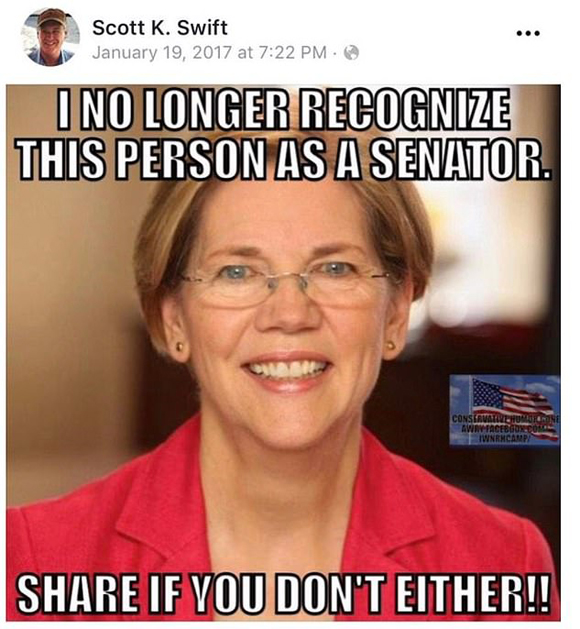 (c) Facebook
Hmmm…
Another meme allegedly posted on Scott's page took aim at immigration. It read:
"The IRS has returned my tax return to me this year after I apparently answered one of the questions incorrectly… In response to the question, 'Do you have anyone dependent on you?' I wrote: '9.5 million illegal immigrants, 1.1 million crack heads, 3.4 million unemployable scroungers, 80,000 criminals in over 85 prisons plus 650 idiots in Washington."
In another post from October 2016, he allegedly blasted the #BlackLivesMatter movement by promoting #BlueLivesMatter: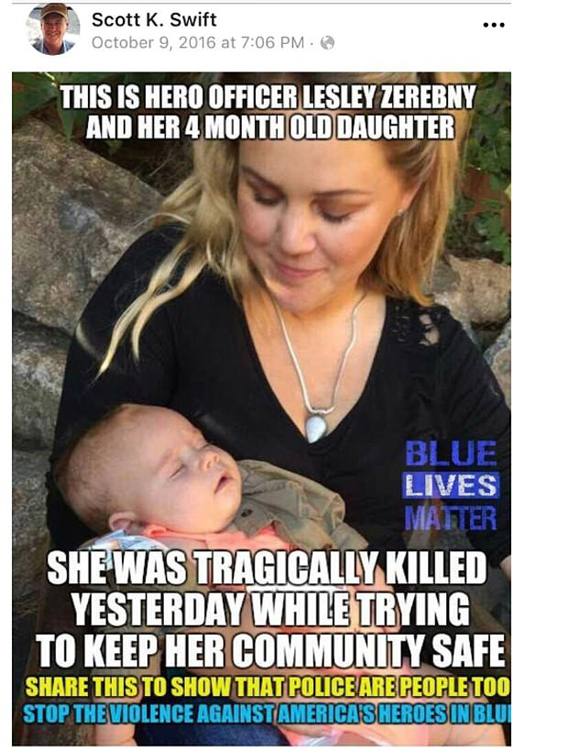 (c) Facebook
Okay, sure, it's nothing that bad — at least not compared to the other posts we've seen out there — but it's certainly not a good look for the Swift family as Scott's famous daughter is set to solidify her **Woke Taylor** era with her upcoming Lover album, which she previously described as having left-leaning "political undertones."
It's unclear if the memes were actually shared by Tay's dad, or whether or not the posts were edited, but the fact his account was deleted right after fans swarmed his page is suspicious, to say the least.
What do U think happened here, Perezcious readers? Did Taylor order Poppa Swift to delete his FB? Share your thoughts in the comments!
[Image via WENN]
The post Taylor Swift's Dad Reportedly Deletes Facebook Account After Fans Accuse Him Of Posting Right-Leaning Memes! appeared first on Perez Hilton.
Read more: perezhilton.com