Forget dry chicken with our Juicy Oven Baked Chicken Breast Recipe! Deliciously seasoned before being cooked in the oven until golden with mouthwatering crisp edges!
Tender and full flavoured, our simple and easy baked chicken breast recipe uses skinless and boneless chicken breasts baked in the oven until golden and caramelised. For extra flavour, garlic butter mixes through the cooked pan juices to serve your chicken drizzled in the best sauce!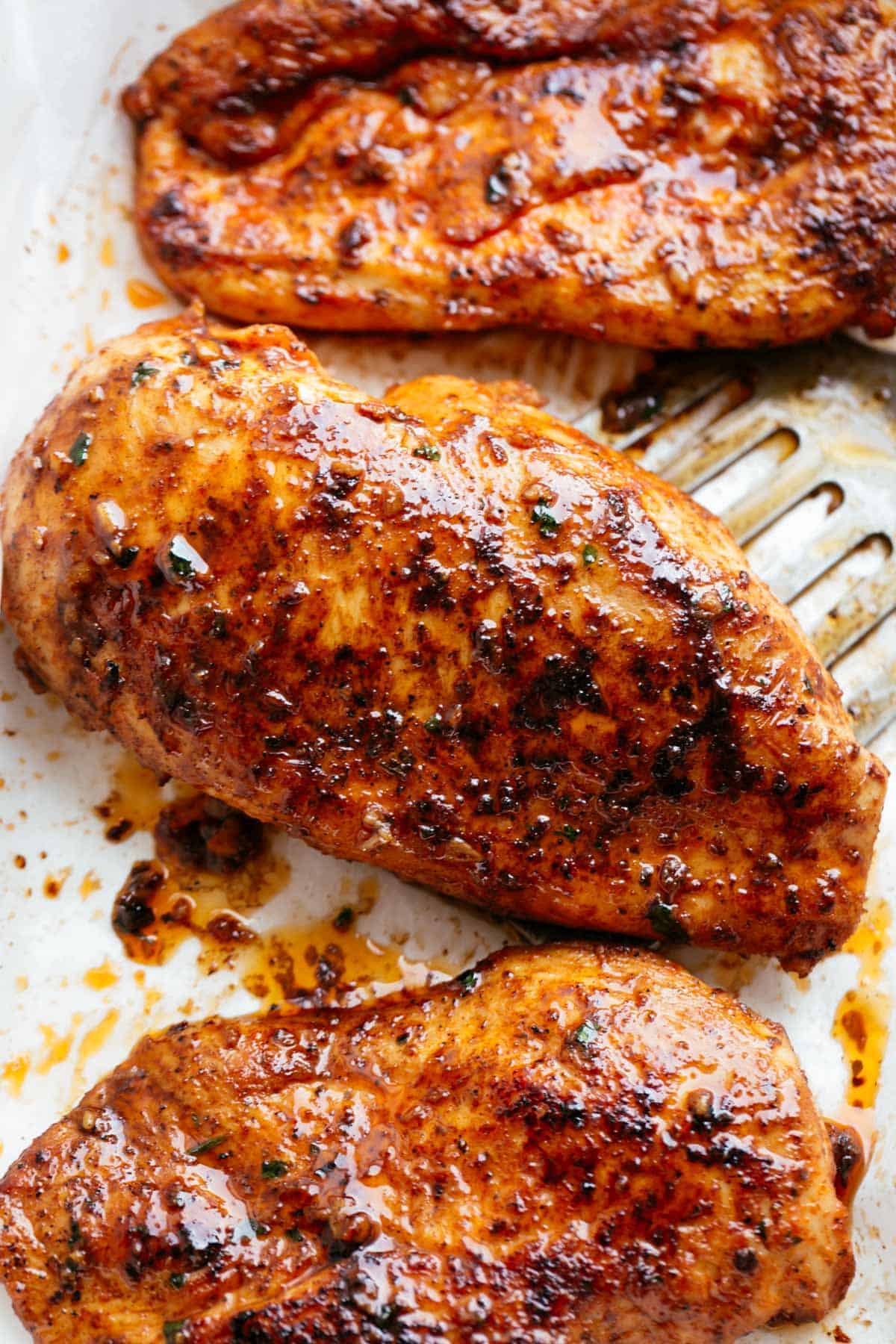 THE JUICIEST OVEN BAKED CHICKEN BREAST RIGHT HERE!
For years I tried so many recipes and techniques for a juicy baked chicken breast. Disappointed every single time and having to chew though mouthful of dry chicken, dipping each forkful in mayonnaise just to get through it. If you love food as much as I do, this is usually a completely heartbreaking experience.
Enter our recipe: easy, fast and simple. No weird steps, no wrapping, tenting, brining or marinating needed. Just a good flavoured seasoning rubbed all over our chicken and let your oven do all the work.
This is how I make the most incredible baked chicken breast that retain all of their natural juices!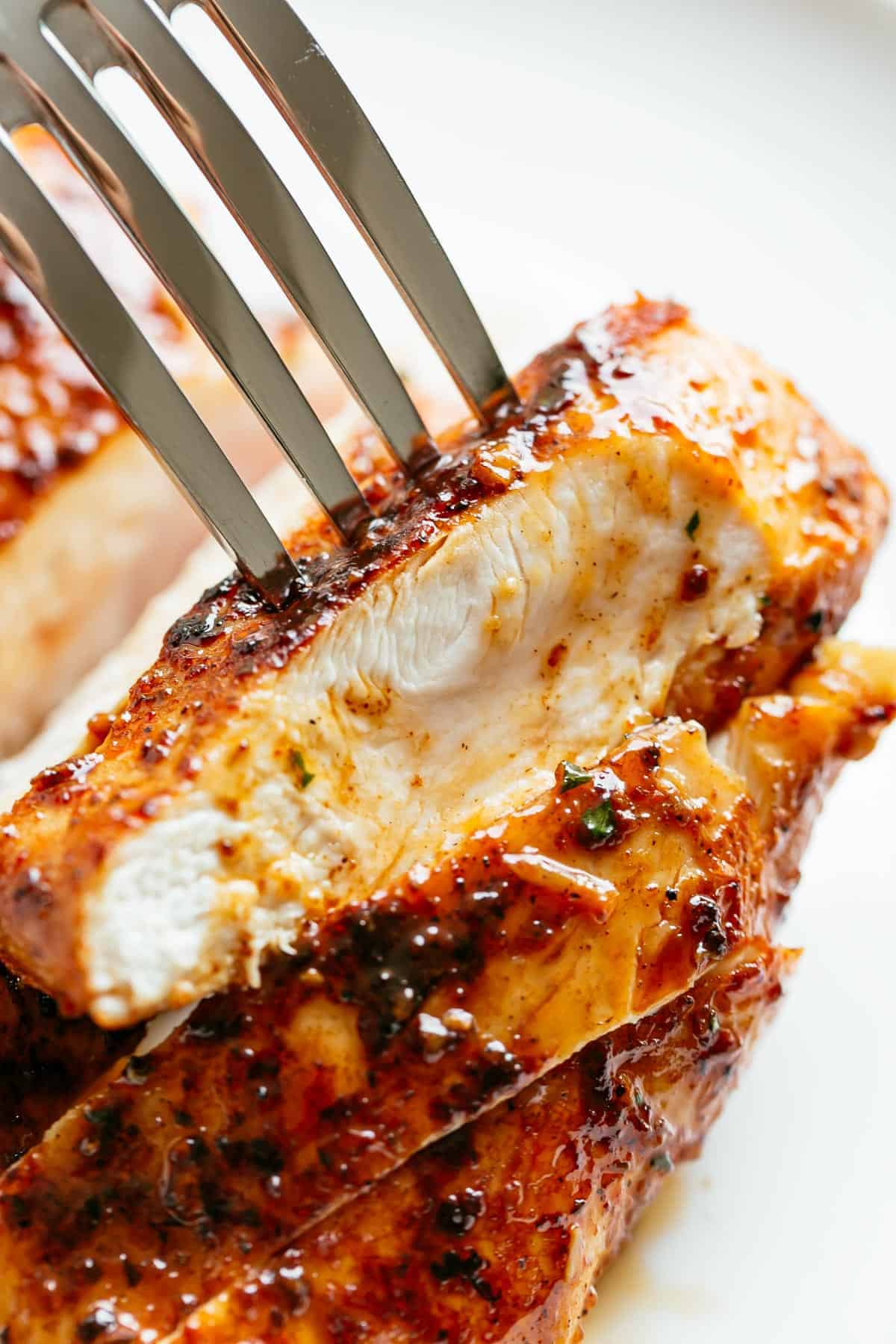 The best part about this recipe are the pan juices that mix through the seasoning to give you a little something extra to drizzle them with when serving.
CHICKEN BREAST SEASONING
You only need a handful of seasoning ingredients for this one: paprika (mild, sweet or smoky), brown sugar (or a brown sugar substitute for Keto readers), oregano (or Thyme), onion powder, garlic powder, salt and pepper.
Adapted from our Cajun Butter Chicken recipe without the heat! Of course, you can add the heat if you desire!
All of these ingredients together smothered all over your chicken breasts makes MAGIC and the perfect balance. The brown sugar lets the chicken sweat while baking, making our baked chicken breast even juicer! Much like our your favourite Chili Lime Chicken.
HOW LONG TO COOK CHICKEN BREASTS
Large chicken breasts (7oz or 200g) take about 20-22 minutes to cook. Medium-sized breasts (5 – 6oz or 150 – 180g) take about 18-20 minutes. You also have the option of throwing on your broiler in the last 2 minutes to get  crispier edges!
Cooking them at high heat ensures the crispy, caramelised edges, while keeping your chicken super juicy on the inside. Once the chicken is golden and caramelised, it's cooked! Let it rest for about 5 minutes to recirculate all of those natural juices through the meat.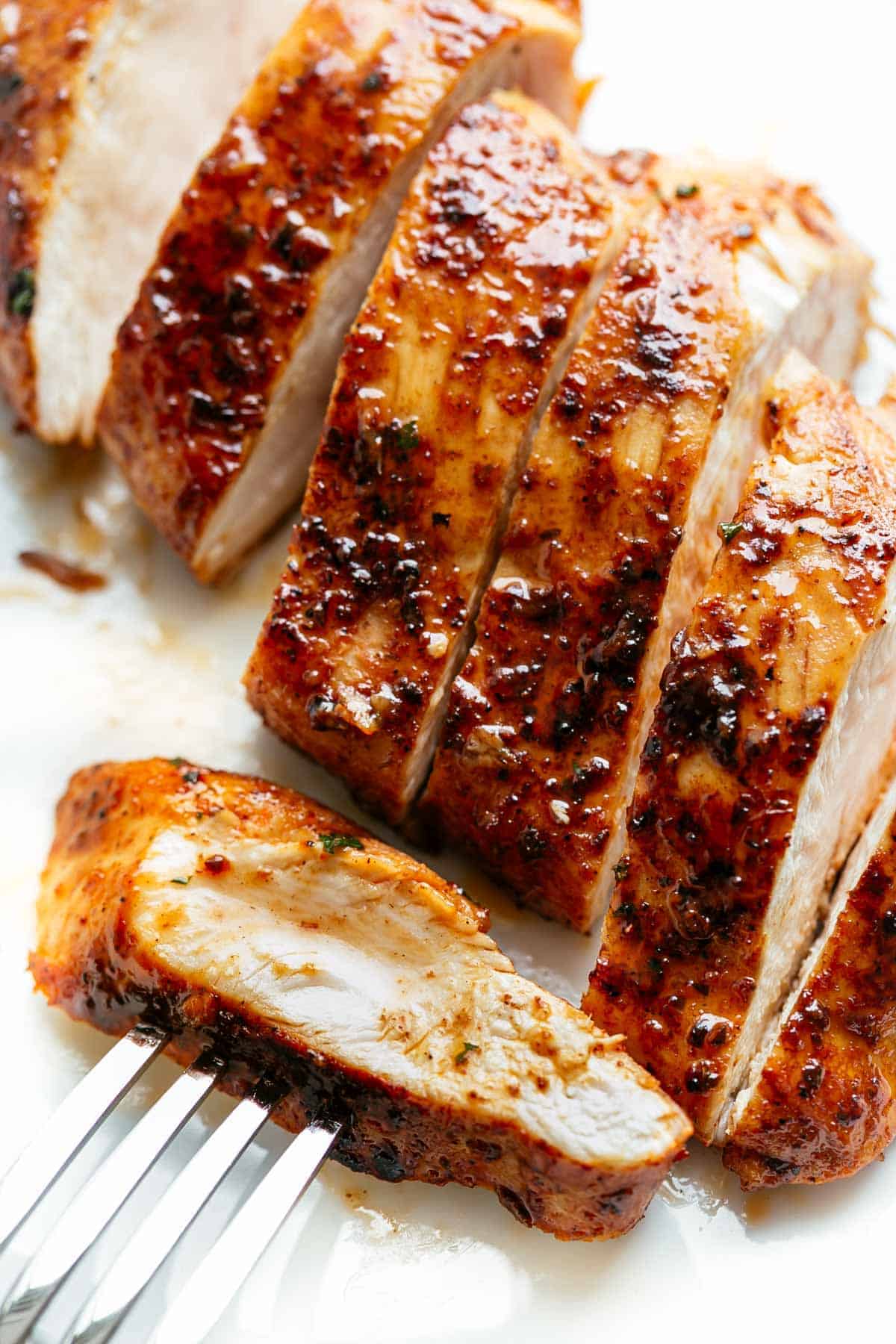 COOKED CHICKEN TEMPERATURE
If unsure your chicken is cooked through, use a meat thermometer. It should read 165°F (75°C) when inserted in the thickest part of the meat.
WHAT TO SERVE WITH BAKED CHICKEN
So many options go with this recipe!
MORE CHICKEN BREAST RECIPES YOU WILL LOVE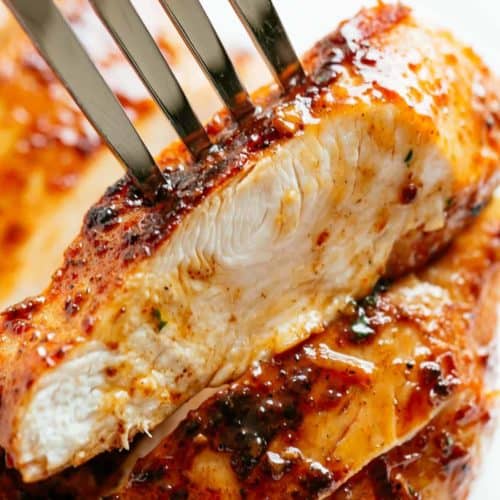 Tender baked chicken breasts are so JUICY and full flavoured! Forget dry chicken with our simple and easy winning recipe. Deliciously seasoned before being baked in the oven until golden with mouthwatering crisp edges!
Prep: 10 mins
Cook: 15 mins
Total: 25 mins
Serves: 4 people
Ingredients
1

heapong tablespoon

light brown sugar

FOR KETO: use brown sugar substitute

1 1/2

teaspoons

mild paprika

1

teaspoon

dried oregano,

or dried Thyme

1

teaspoon

salt

1/2

teaspoon

each garlic powder and onion powder

1/4

teaspoon

cracked black pepper

to taste

1/4

teaspoon

cayenne pepper,

(or chili powder) for an extra kick. OPTIONAL

4

large

chicken breasts (7oz | 200g each)

1

tablespoon

olive oil
OPTIONAL:
3

tablespoons

butter

1

large

clove garlic,

minced or finely chopped

1

teaspoon

fresh chopped parsley
Instructions
Preheat oven to 425°F | 220°C.

Using a meat mallet or rolling pin, pound each chicken breast to 0.8-inch | 2cm at the thickest part. Make sure your fillets are all the same thickness to ensure even cooking.

Combine sugar, paprika, oregano, salt, powders and pepper(s).

Line a baking pan with parchment (or baking) paper. Transfer chicken to the pan and toss chicken in the seasoning. Drizzle with the oil and rub seasoning all over to evenly coat. 

Bake chicken in preheated oven for 18-22 minutes, or until internal temperature is 165°F (75°C) using a meat thermometer. It should be golden with crisp edges.*

For crispier chicken, change your oven setting to broil (or grill in Aus/UK) on high during the last 2-3 minutes of cooking until golden.

Remove pan from oven, transfer chicken to serving plates and let rest for 5 minutes before serving.

OPTIONAL STEP: While chicken is in the oven, melt butter in a small skillet. Sauté garlic until fragrant (30 seconds), and remove pan from heat. Stir in parsley, then pour butter mixture into pan juices, stirring well to combine all of the flavours together.

To serve, drizzle pan juices over the chicken and garnish with freshly chopped parsley.
Nutrition
Calories: 166kcal | Carbohydrates: 1g | Protein: 24g | Fat: 7g | Saturated Fat: 1g | Cholesterol: 72mg | Sodium: 713mg | Potassium: 435mg | Fiber: 1g | Sugar: 1g | Vitamin A: 403IU | Vitamin C: 1mg | Calcium: 14mg | Iron: 1mg